Welcome to The Floating Bed and Breakfast – two private floating homes at anchor in gorgeous Yellowknife Bay, with perfect views of the houseboat community and nightly shows of the Aurora, all within a few minutes of the city! Please go to the Booking Calendar page to book one of our 3 rooms for your vacation in the north!
The Studio Suite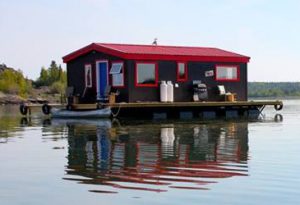 features a single-story open-concept kitchen and living area, and a private bedroom with a queen-sized bed. This cozy floating home feels like a cottage, and is very private. The wrap-around deck affords spectacular views of the Bay, other houseboats, and of course the Northern Lights.
The Big Blue Houseboat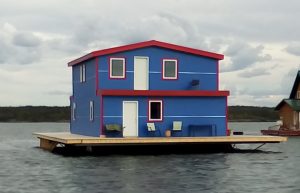 features two private bedrooms on the second floor, each with their own doorway onto an upper deck with an exceptional view of the lake, other houseboats, and the Aurora. The wrap-around deck is truly spacious, with plenty of room to entertain friends, stretch out in the sun, or set up your tripod and camera for Northern Lights photography. PLEASE NOTE: Big Blue is not available for rent at this time, as it is being rented on a monthly basis to tenants.
Please see the Amenities page for everything these accommodations have to offer.
Please view the FAQ page for information on how to get here, and what activities you can do in Yellowknife.
Here is a view of the Aurora just outside the houseboat, above the floating home community: